2016 Kia Forte Walk Around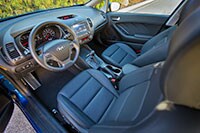 Without question, exterior styling is the Forte's strongest merit, helping to broaden its appeal to a wide audience. In fact, we consider Forte to be almost ideally proportioned, ranking among the most attractive models in its class.
With its surprisingly swoopy shape, below a gracefully arced roofline, the Forte manages to look both contemporary and rather sporty. In fact, the rake angle of the sedan's front end almost suggests that of a sports car. Few competitors could make such a claim. The rear end narrows, but the trunk lid is cut wide to permit easier loading of luggage into the sizable space, which totals 14.9 cubic feet.
Interior
A clean, simple layout helps give the cockpit an appearance that approaches upscale, with a sporty component. A split design keeps the console from acquiring a bulky appearance. Sensibly large climate-control knobs are round and sturdy, and finishes within the cabin are pleasing to the eye.
Headroom is snug in both front and back; more so with a sunroof, which is available for the EX sedan. A power driver's seat with ventilation, available for EX, may be tempting. But we'd be more impressed if those seat cushions held additional bolstering, to provide more support and yield greater long-distance support. Visibility isn't the best, due largely to the Forte's shapely body.
The rear doors are shaped to open wide, yet entry/exit for the back seat is impaired by the low, curvaceous roofline. That roof profile also shrinks useful headroom.
The rear seats fold almost flat for cargo space. Cubby storage space is sufficient, including a bin beneath a sliding screen, ahead of the gearshift lever. Both the glovebox and the console bin are adequate in size.