2016 Kia Forte Driving Impressions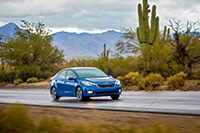 The Kia Forte's appearance hints at sportiness but actual performance is average. Although the powertrain can be sufficiently spirited, gas mileage is generally good, and handling is acceptable.
No one would call the Forte quick, but both engines perform decently enough. The direct-injected 2.0-liter provides better fuel economy in urban, traffic-heavy driving, and seems better matched to the 6-speed automatic transmission.
You should expect a ride that's firmer, even occasionally harsh, compared to some sportier compacts, such as the Ford Focus or Mazda 3. The suspension is reasonably good at absorbing choppy pavement roughness, yet surface flaws don't go unnoticed. An EX feels firm during light maneuvers, yet permits excessive body motion at other times.
Some models offer selectable steering boost with three modes. Power steering is similar to the one used by the Hyundai Elantra GT, with sport, normal, and comfort assist levels. Responsiveness does not change, but picking a different mode does add a bit of heft to the steering. Normal and comfort feel more appropriate, but the sport setting can help the Forte remain reliably on course in highway driving.