2015 Kia Sedona Driving Impressions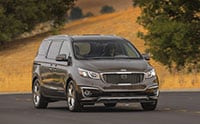 On the roads around Orange County, California, that were used for the introductory press drive, our Sedona SX Limited demonstrated an impressive combination of refinement and poise. While the suspension is necessarily compliant in this application, we found ride motions to be well controlled.
Sedona SX and upper models come with electric power steering in place of the standard hydraulic system, giving it a slight fuel-efficiency advantage, though less than one mile per gallon so not enough to show up on the fuel economy charts.
Even at a brisk clip along the Ortega Highway, quick left-to-right transitions were managed without any needless roll or wallow. While the electronic steering assist is undeniably numb on center, and light to the touch, the Sedona responds accurately to the helm, needing no ongoing correction in long bends.
The Sedona is soft enough in roll to prevent any needless head-toss effects, but with enough anti-roll bar to arrest rolling motions so that hard corners and quick transitions do not result in wallowing or bouncing. In a vehicle designed to comfortably transport up to seven persons, this is a pretty decent achievement.
This road going composure is undoubtedly helped by the stiff bodyshell, which has also contributed to a pleasant degree of noise isolation. The ride is quiet, even on coarse concrete highways notorious for transmitting roar.
And, for a two-ton van with just a 3.3-liter powerplant, response to the throttle is respectable. Kia has employed a three-stage variable induction system along with dual valve-timing variability to broaden the torque spectrum, and it shows. We hardly ever needed to resort to full-throttle, high-rpm engine use, but when we did, the V6 rewarded us with decent acceleration and an enjoyable, if muted, six-cylinder snarl.
Kia's 6-speed automatic is both responsive and unobtrusive. Shifts in normal driving are smooth and almost undetectable, and the control unit is not easily confused by rapid changes of throttle position. Yet it will quickly find a lower ratio when instructed by a stab at the accelerator pedal.